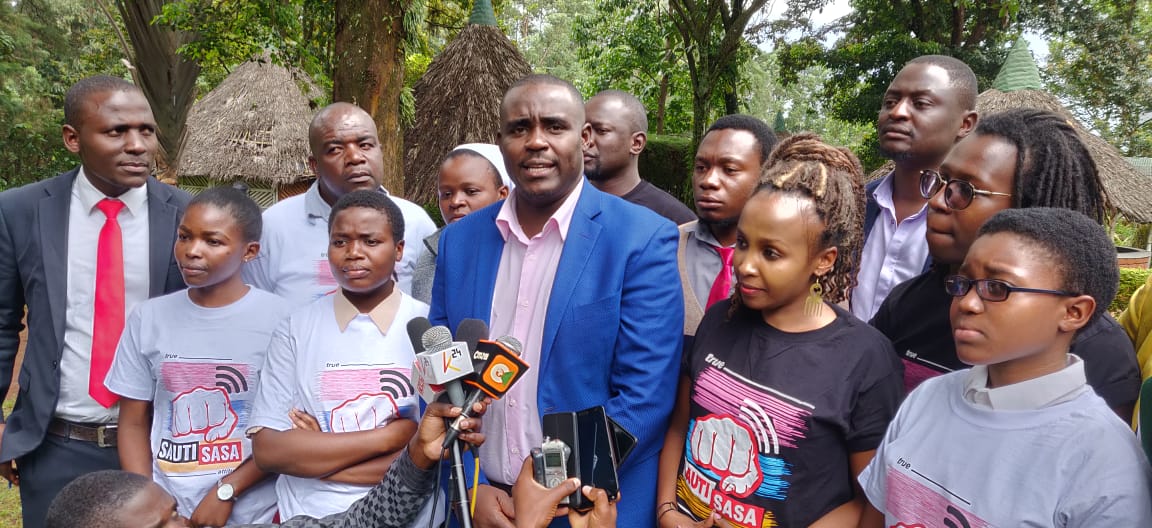 October, 2019: The Office of the First Lady of Bungoma County and the office of the Senator, Kakamega County, in collaboration with AMREF Youth in Action (Y-ACT) Network this month launched the first county dialogue forums on teenage pregnancies that culminated in a call to action to address the rising cases of teenage pregnancies in the County.
Statistics from the Ministry of Health (2018) indicated that Bungoma County ranked second and Kakamega County fifth in the top 10 counties recording the highest rates of teen pregnancies in 2018. Others counties affected by high cases of teenage pregnancies include Nairobi, Kilifi, Nakuru, Meru, Kiambu, Narok, Siaya and Homa Bay. The challenge in Bungoma County is also coupled with cases of complete abortions, incomplete abortions and abortion sepsis which must be treated in hospitals. In addition, Bungoma tops the list of counties in Western Kenya with the highest number of teenage pregnancies with 21,220 teenage girls getting pregnant in 2018 alone. In the same year, the reported cases of teenage pregnancies within Kakamega County stood at 16,989.
Y-ACT is using a disruptive advocacy approach that calls for political leadership and multi-sectoral action to fight teen pregnancies in the country. This initiative challenges the norm where most organizations and key actors have often worked in silos, deprioritizing political leadership in this crucial conversation. Y-ACT has partnered with Hon. Cleophas Malalah, Kakamega County Senator and H. E. Mrs Caroline Wangamati, First Lady of Bungoma County to spearhead the fight against teenage pregnancies. Partnering with Y-ACT on the Sauti Sasa! youth-led, youth-driven campaign to step up the fight on teenage pregnancies in Kenya comes at the right time, when about 13,000 girls in Kenya dropout of school due to unplanned pregnancies.
These youth-led dialogues and action plan meetings shed light on the high prevalence of teenage pregnancies in Bungoma and Kakamega Counties. Speaking at the launch, Senator Malalah noted that, "With close to half a million adolescents aged 10-19 years presented with pregnancy at different health facilities in Kenya in 2018, the number is suspected to rise. Data from the Ministry of Health in 2019 indicates that while there is a spike in the number of adolescents accessing contraceptives, there is an upward worrying trend in the rate of teenage pregnancies in Kenya. With this in mind, it is the desire of the County Government to lead and develop a draft action plan that will inform and guide initiatives which will address this challenge." He therefore decided to take initiative to champion and heighten the fight against teenage pregnancies in Kakamega County.
The technical discussions featured key persons from various departments and sectors including County Government departments of Youth, Education and Health, the County Assemblies of Bungoma and Kakamega Youth Caucus, County Commissioner, State Department for Youth Affairs, Ministry of Education, Science and Technology. Also present were youth representatives, civil society organizations, Non-Governmental and Faith-Based Organizations, school-going and out-of-school adolescents.
Mrs Caroline Wangamati, the First Lady of Bungoma County took into account her leadership as a champion for mothers and babies, eradicating fistula and increasing public participation on reproductive, maternal, new-born, child and adolescent health related issues. With this in mind, she pledged to work towards the realization of transformative strategies that will create an enabling environment for the significant reduction of teenage pregnancies. 
The launch of the Bungoma and Kakamega County dialogues in partnership with AMREF's Y-ACT Network took place as the world marked the Development Information Day to draw attention to development problems such as teenage pregnancies focused on five key pillars. These were access and service delivery, policy and legal intervention, political action and traction, uncomfortable conversations as well as digital innovations and solutions.
Ms. Sylvia Wamugi, Y-ACT Deputy Director- Advocacy, Communications & Strategic Partnerships asserted that teenage pregnancies continue to be a never-ending crisis in Kenya and that there is an immense need to strengthen inter-county as well as national cooperation to solve these rampant development. Over and above the county dialogues, there is the potential to link the outcomes of the dialogue with other interventions being implemented by other partners and organizations to reduce if not eradicate teenage pregnancies altogether.
Key outcomes
The key outcomes of these initiatives led by high level county officials led to the following commitments:
Kakamega County:
A Sexual and Gender Based Violence policy awaiting approval

A Technical Working Group to address youth Sexual and Reproductive Health issues and engaging communities to address teenage pregnancies via community dialogues

Mentorship for girls and addressing of issues such as relationships and peer pressure, sex education and the importance of avoiding early sexual engagements to reduce teenage pregnancies

Developing an adolescent package for schools, access to information and youth friendly services and enforcement of return to school policy after the girls have given birth and weaned their children

Parents and caregivers were encouraged to attend engagement forums whose aim is the sensitization of community on the effects of teenage pregnancy.
Kakamega County Senator Cleophas Malalah @Cleophasmalala tweeted We shall invest in everything to make sure the youth of Kakamega rise and are secure #StopTeenagePregKe #SautiSasa
Bungoma County:
Working together to eradicate

kangaroo courts

that have contributed highly to defilement and sexual and gender based violence, a key contributor to teenage pregnancies

Strengthening the health facility outreach programs in schools based on those in Bumula sub-county to supress teen pregnancies

Setting up a task force to steer the drafting of policy, which will be

 

implemented through the office of the governor